At San Diego Comic Con 2019, Hasbro announced a character for release in the Marvel Legends lineup that many fans legit believed would never be done. But after years of requests and dozens of issues of her solo comic book series, a 6" Squirrel Girl action figure finally became a reality! And after a half year of waiting, the Marvel Legends Squirrel Girl figure is finally shipping out from retailers… boxed with a scooter that hasn't exactly been met with a warm response. How is this box set as a whole, and is it worth its price tag? Here's my review…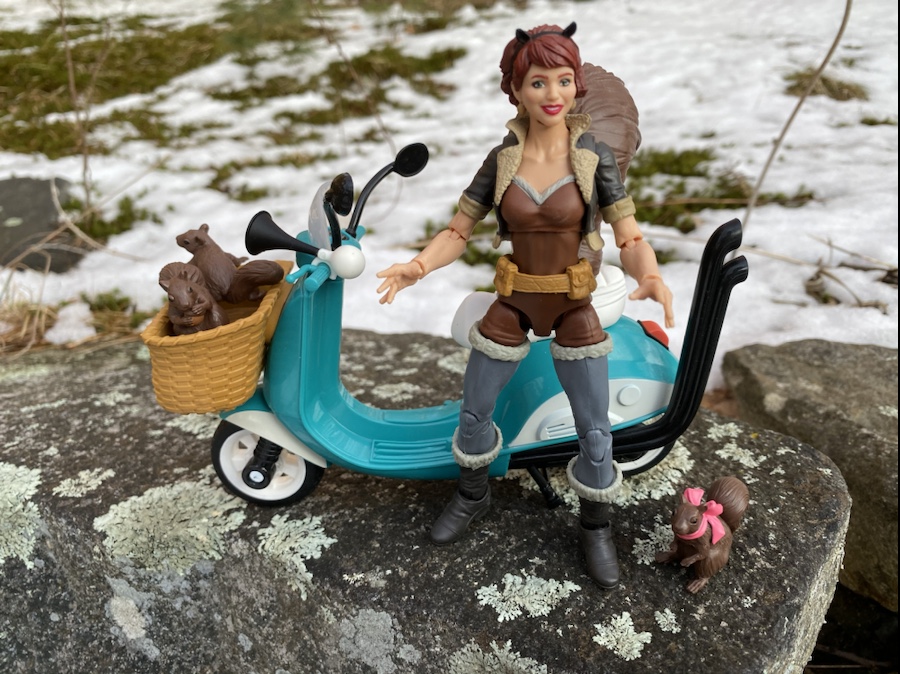 Up until now, I've had the good fortune to only review Marvel Legends 2020 figures that have been anywhere from good to incredible. But the subject of today's review is one that the collecting sphere has been a bit more divisive about: the Squirrel Girl Marvel Legends Ultimate Riders set with scooter.
As a character, Squirrel Girl is sort of a "love her/hate her" proposition to begin with, so pairing her first ever six inch figure exclusively with a vehicle in a $40 MSRP set seemed like a risky gambit. And while I'm psyched about owning a super-articulated action figure of Doreen Green, even I'm not ecstatic about the requisite vehicle purchase making her essentially a $40 figure.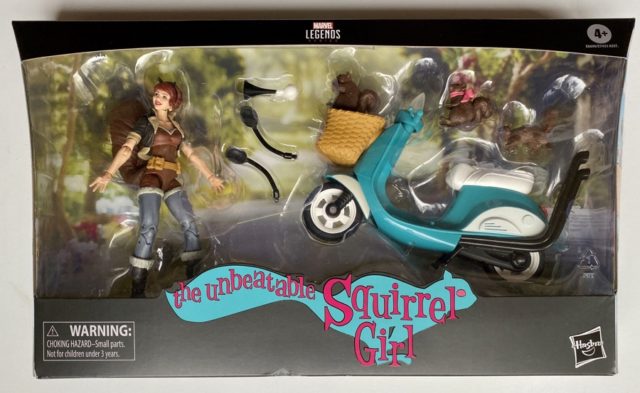 Some folks' minds may be baffled as to why we're getting a Marvel Rider Squirrel Girl and Scooter set, as Doreen isn't exactly a character who fans closely associate with "scooter". There's a pretty reasonable two-fold explanation though: 1) Hasbro wanted/needed to get more use out of the Deadpool scooter they released last year; and 2) Squirrel Girl would be too deep dimensionally and/or expensive to release as a single-packed figure.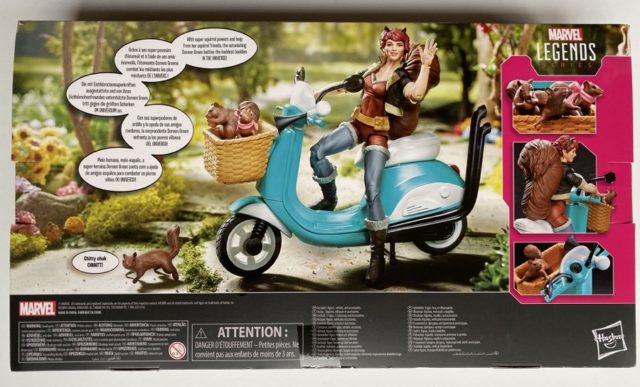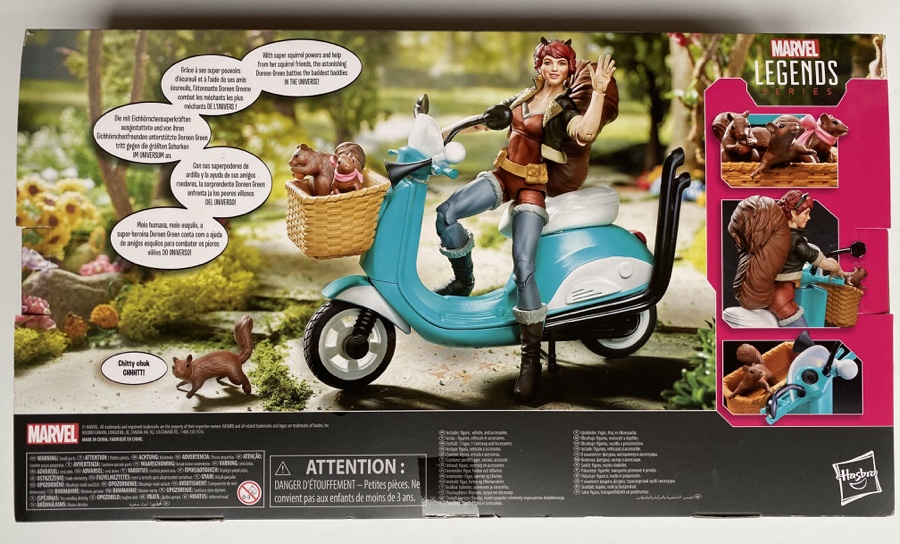 The "why" of the scooter definitely makes sense to me on both fronts, and I can sympathize with Doreen being one of very few comedic Marvel superheroes that would logically pair with a "funny" vehicle. Even so, Squirrel Girl just is not synonymous with scooters to me. This scooter is going in a storage bin immediately after this review, because I simply don't have a want or need for it in my collection.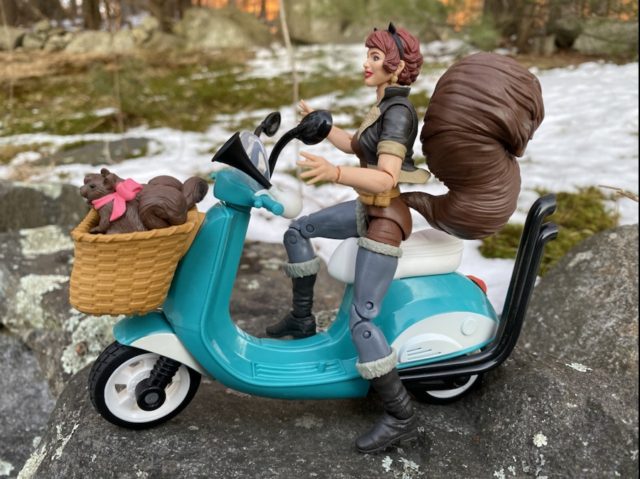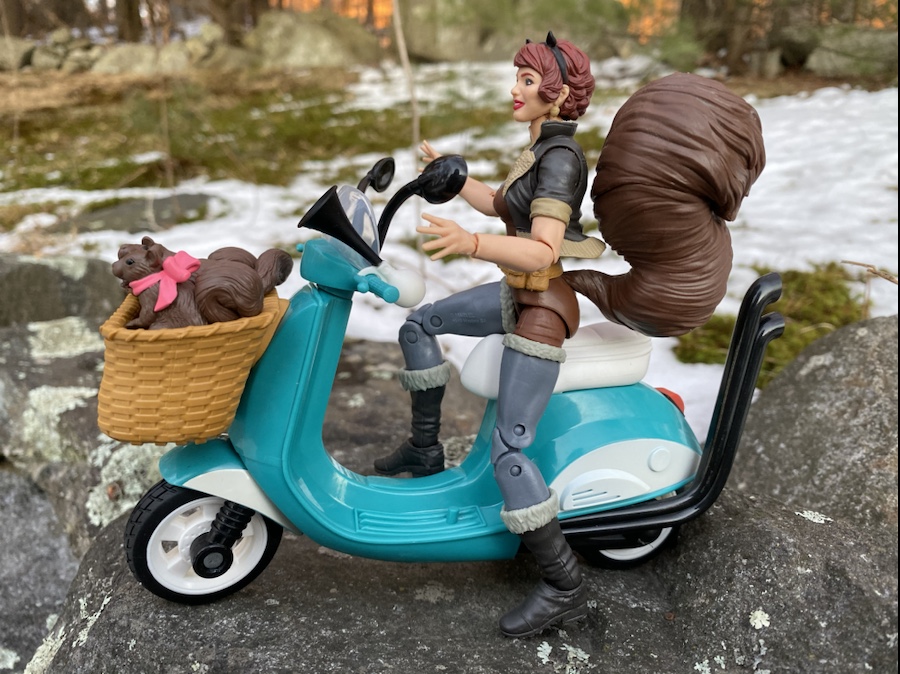 Because of her tail, it's awkward trying to get ML Squirrel Girl to sit naturally on the scooter in any kind of riding pose. It's a solidly executed vehicle that few collectors are actually going to have a use for, unfortunately.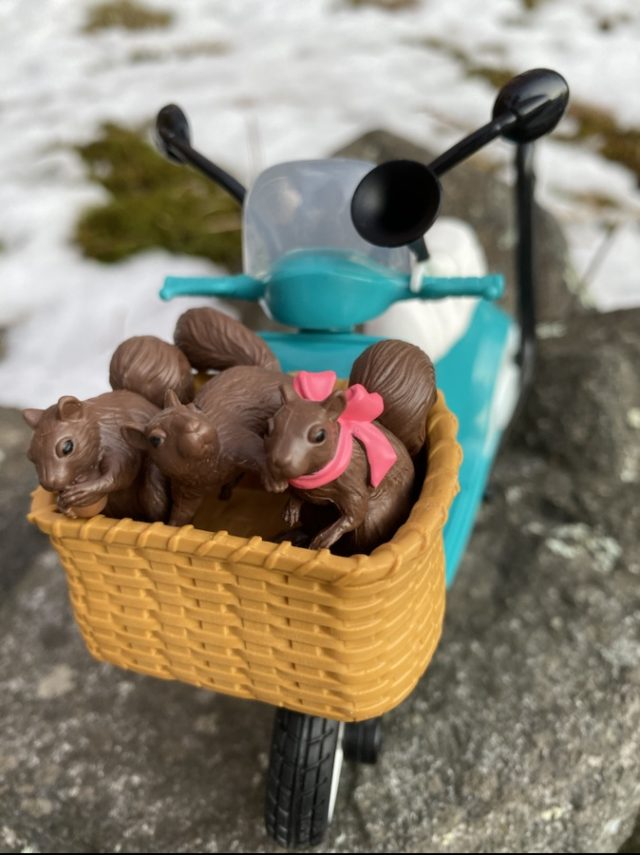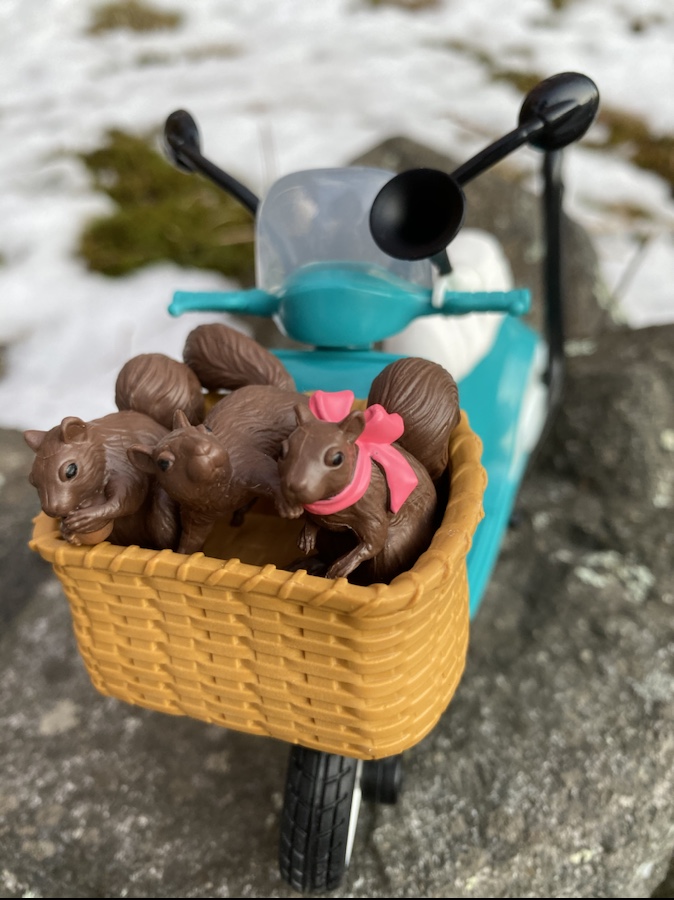 That said, I do find the basket on the front of the bike that's perfectly sized to hold the trio of squirrels to be wonderfully fun, and I think that's genuinely the best thing about the blue bike. I'll be just as happy with the squirrels spread out on their own in my display, but the basket is a fun feature.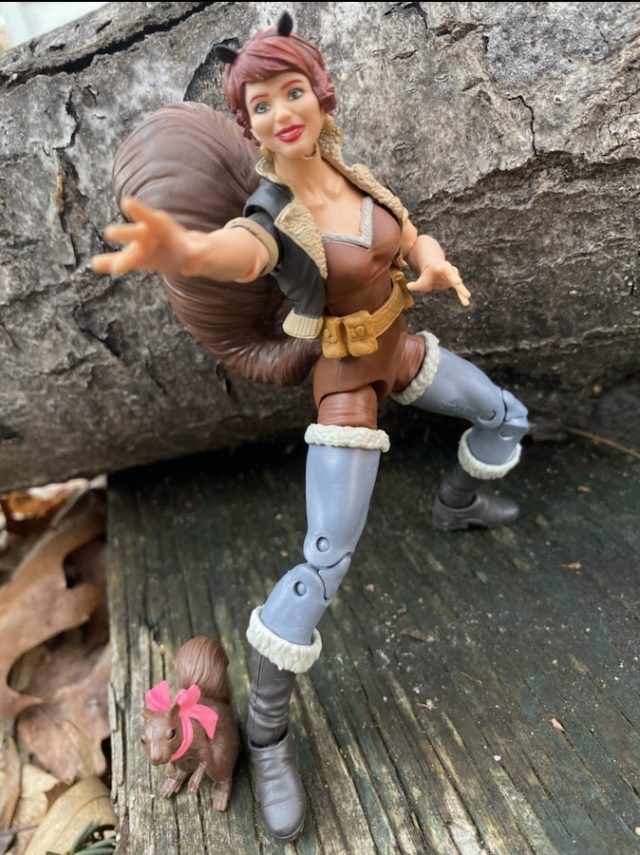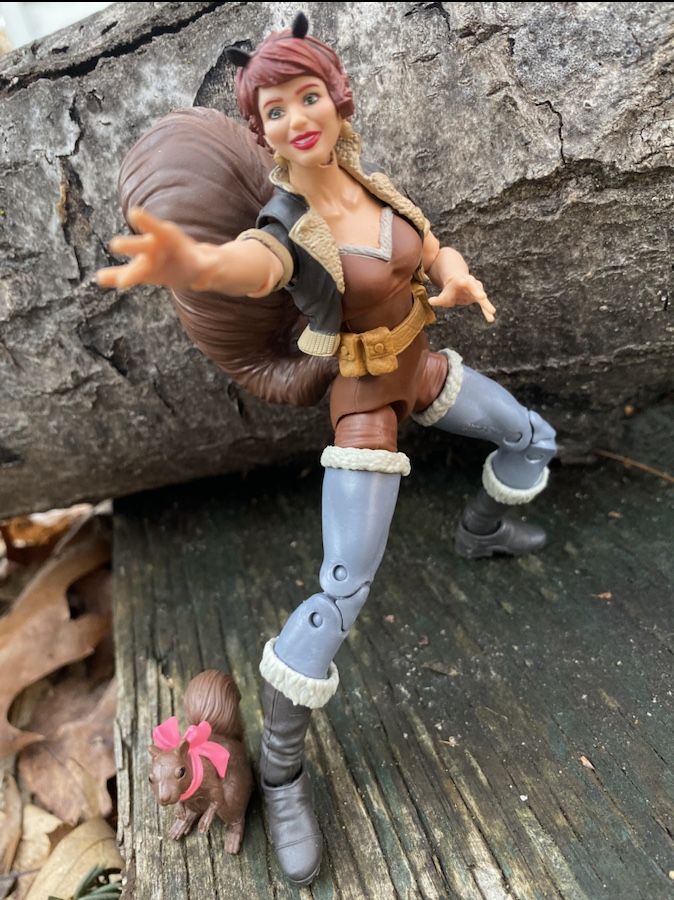 But enough about that bike—let's talk about ML Squirrel Girl herself! Despite the missteps of her being bundled with the scooter, I think this is an overall "good" figure that suffers from a few shortcomings of its own.
I have no real issues with the body sculpt for Doreen—I think it maybe could have been a tad thicker to correspond with her years of appearances in her solo comic book, but the normal-sized young woman body mold is "fine".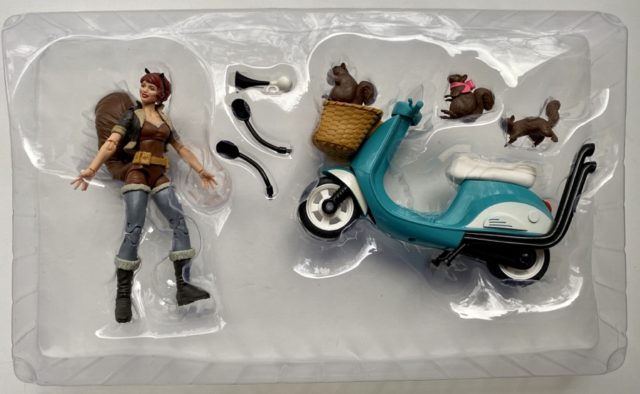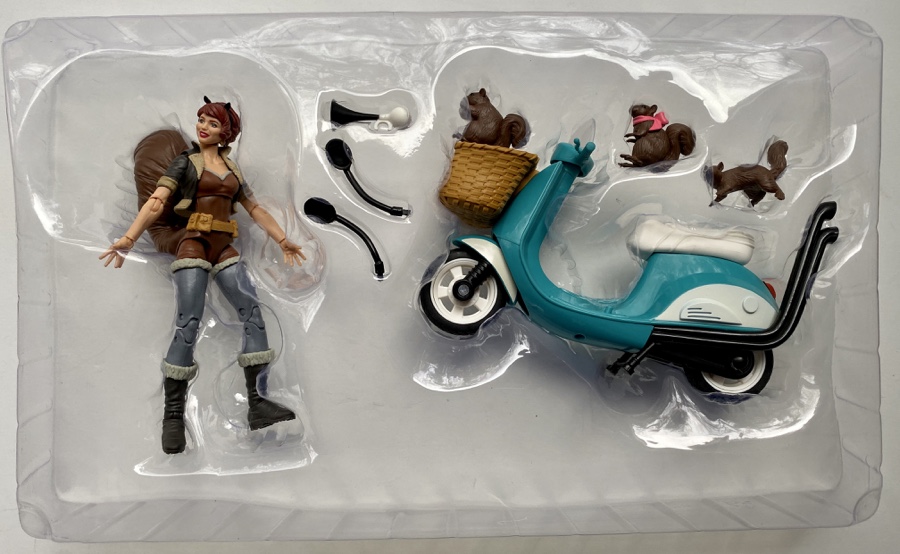 I do, however, feel a ton of disappointment at the lack of an interchangeable head and interchangeable hands. Squirrel Girl can't do a whole lot to villains besides punch them, so the open palms are a weird choice besides for touching the handles on the bike few are going to display her on. Squirrel Girl won't defeat Galactus again with open palms!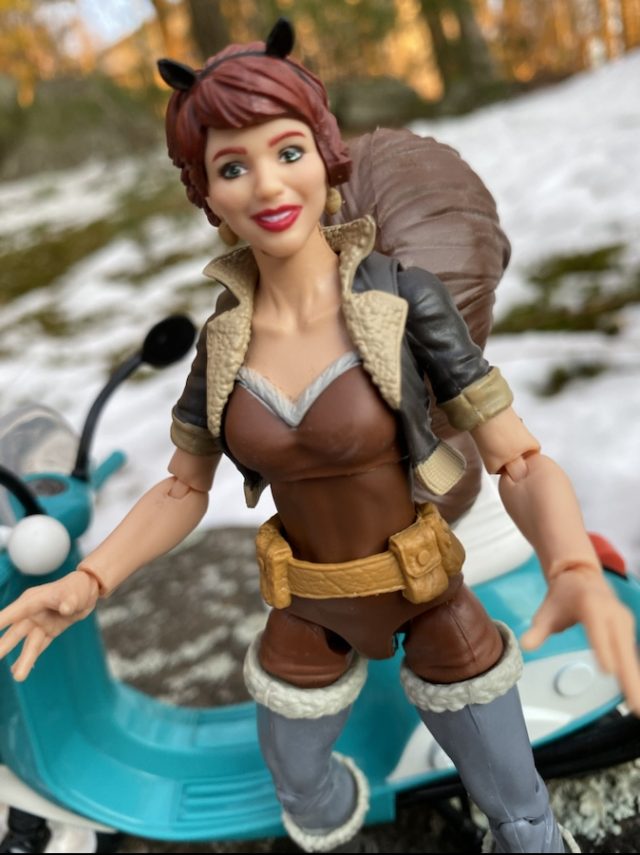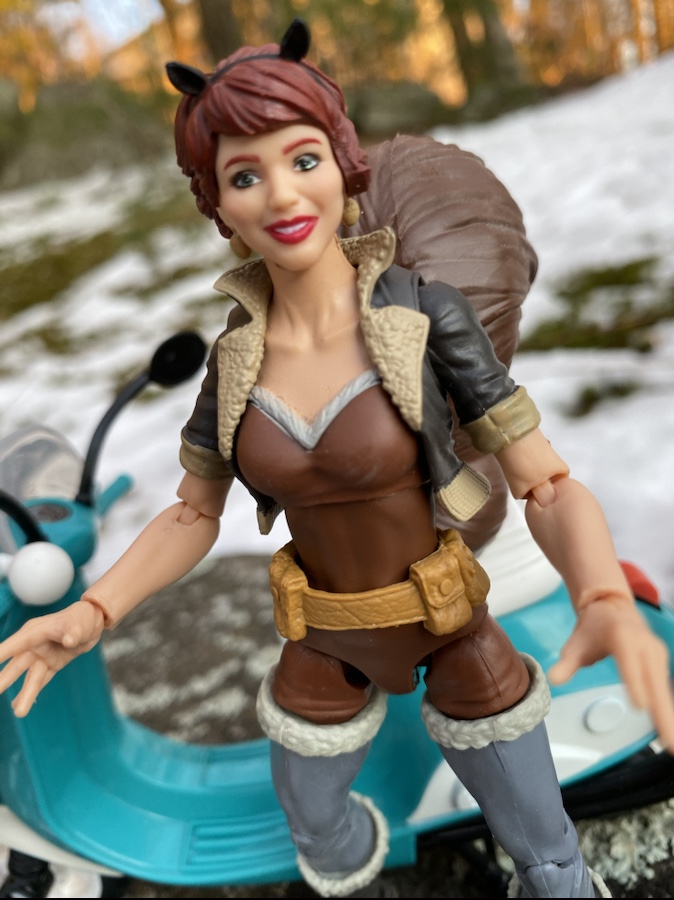 But more importantly, Hasbro picked solely the "pretty" Marvel Rising portrait for Squirrel Girl, which is going to come as a monumental disappointment to the thousands of fans reading her monthly comic book series for the past half a decade. If you Google this character, 75% or more of the results won't have a face that looks anything like the one on this figure, which I think is a real problem.
While the "cartoony" look for Doreen is a bit weird, it's also the look that her most diehard modern fans are used to seeing. Having supermodel-faced Squirrel Girl in my hands just feels weird. This is a rare instance where an alternate head should have been as absolute requirement, and it's a colossal bummer we don't get one (or fists!) with a $40 toy of the character.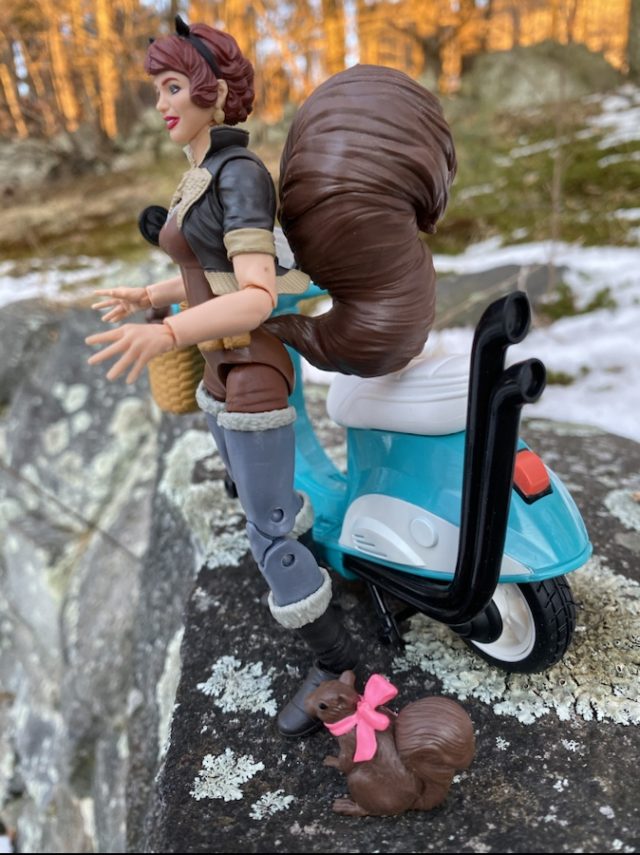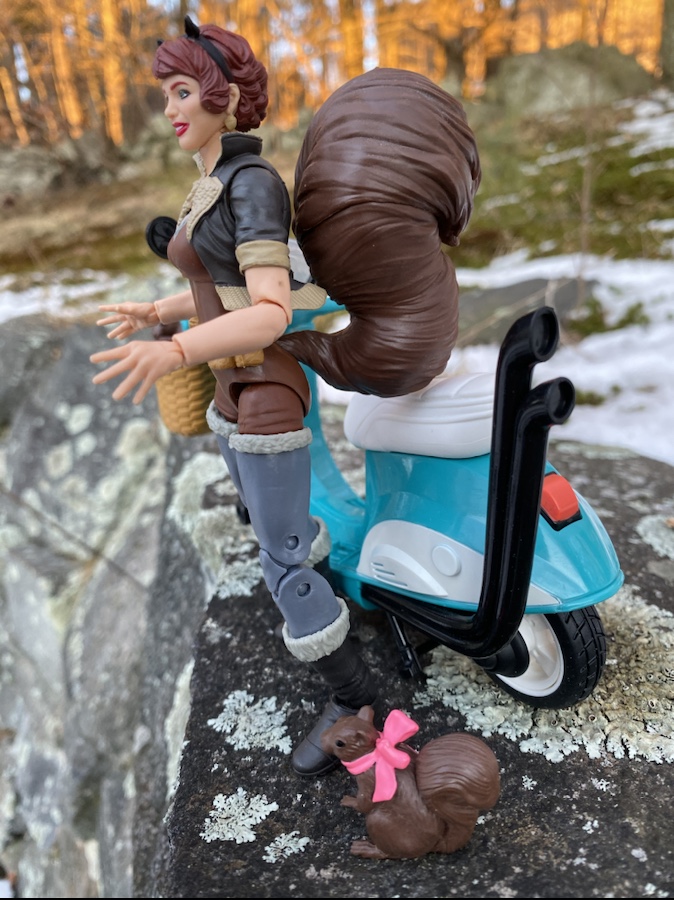 The squirrel tail is a nice sculpt and is permanently attached to the figure's body and not articulated in any way—which sort of makes sense, since squirrels aren't known for their propeller tail action or anything.
Unfortunately, the tail is rather heavy and can throw the balance of the figure off significantly, making posing a challenge. I've managed to pose her on both flat and non-flat surfaces in some fun poses with a lot of effort, but making the tail lighter or hollow would have likely facilitated better posing opportunities.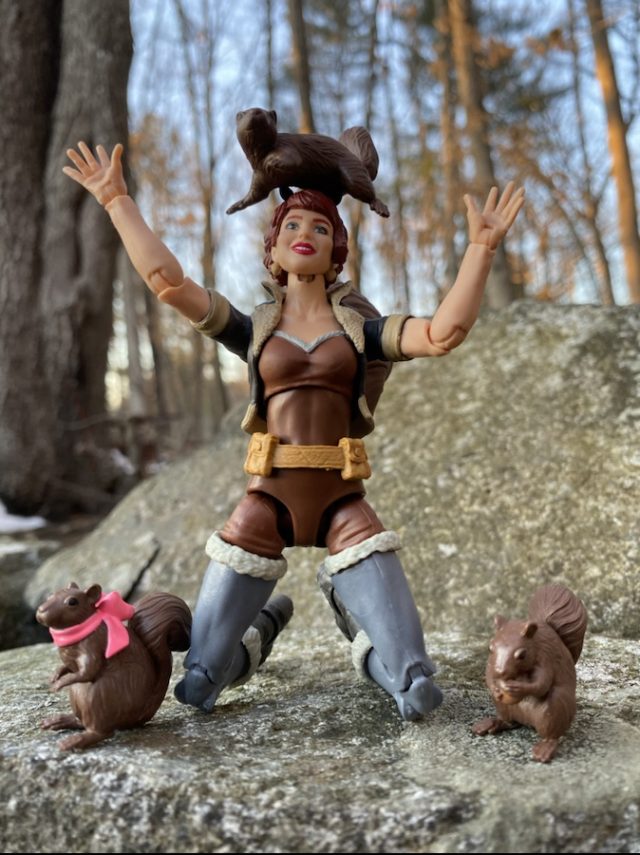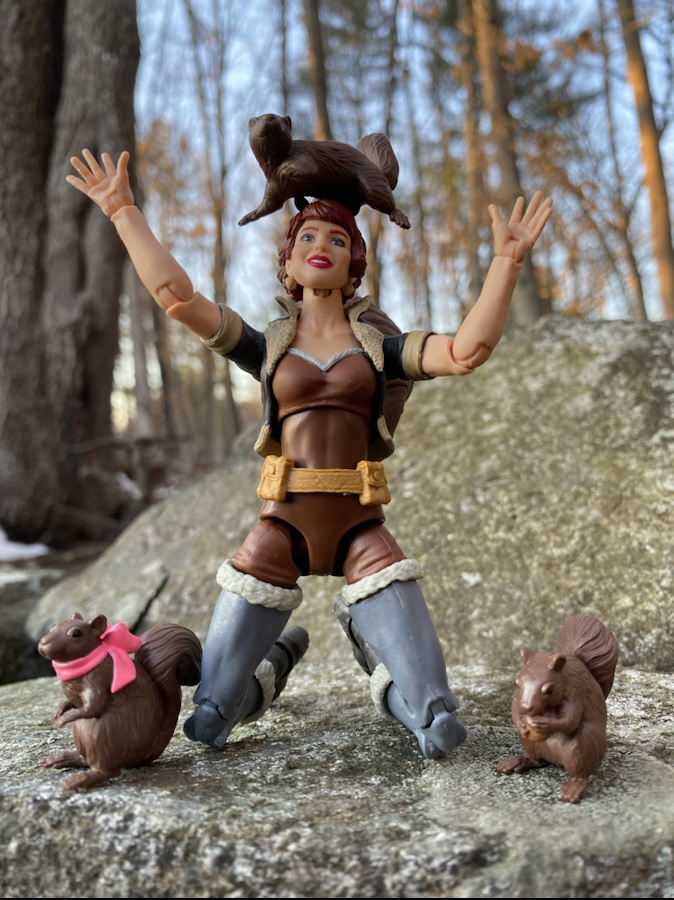 Besides the scooter (with horn!), we get three additional all-new accessories here: unarticulated figures of three different squirrels, including Doreen's much-loved partner Tippy Toe (although molded in brown instead of grey, as Tippy primarily appears in the comics).
Frankly, I love these three little squirrel figurines, and think they add a ton of zany fun and personality to the Squirrel Girl figure. Props to Hasbro for giving us three different molds for them so they're not just clones of each other.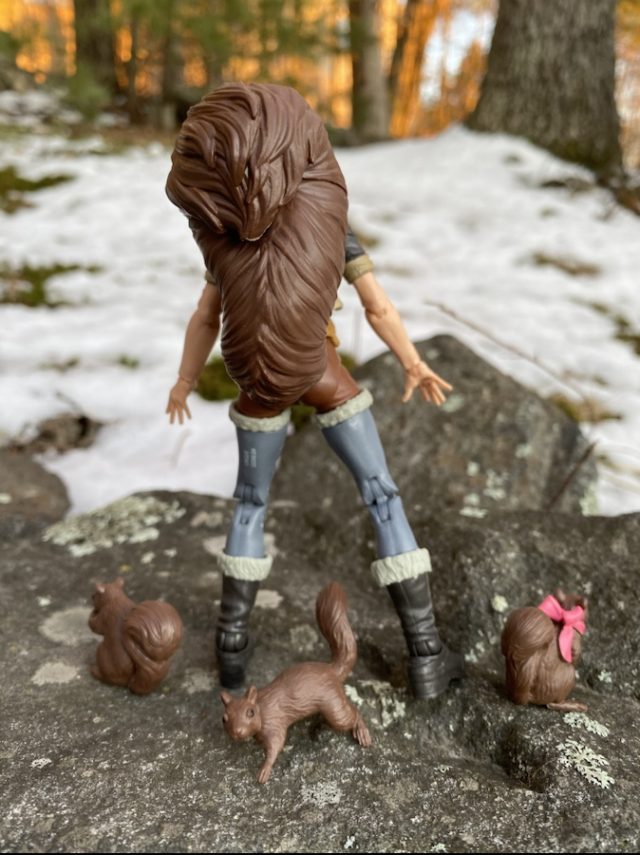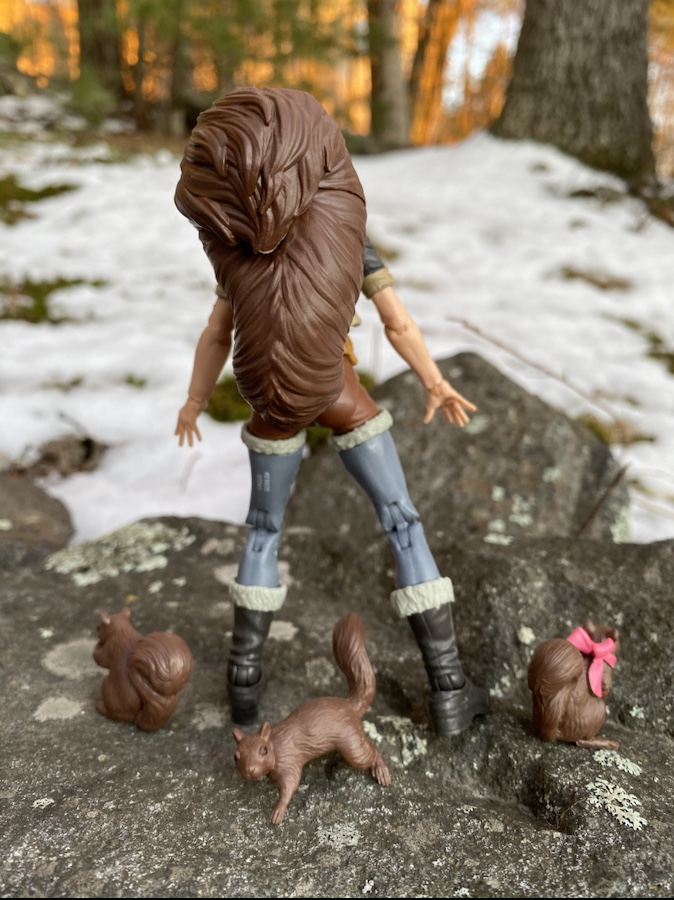 The furry edges of Squirrel Girl's boots and shorts were vital details that Hasbro nailed, and I think they did a good job with the jacket and belt as well. The acorn earrings are appropriate, and I think the colors picked are all ideal—for the most part. Her "squirrel ears" being black is a baffler, though—on a $40 release they should at least have been brown, even if the inner ears weren't going to get paint deco.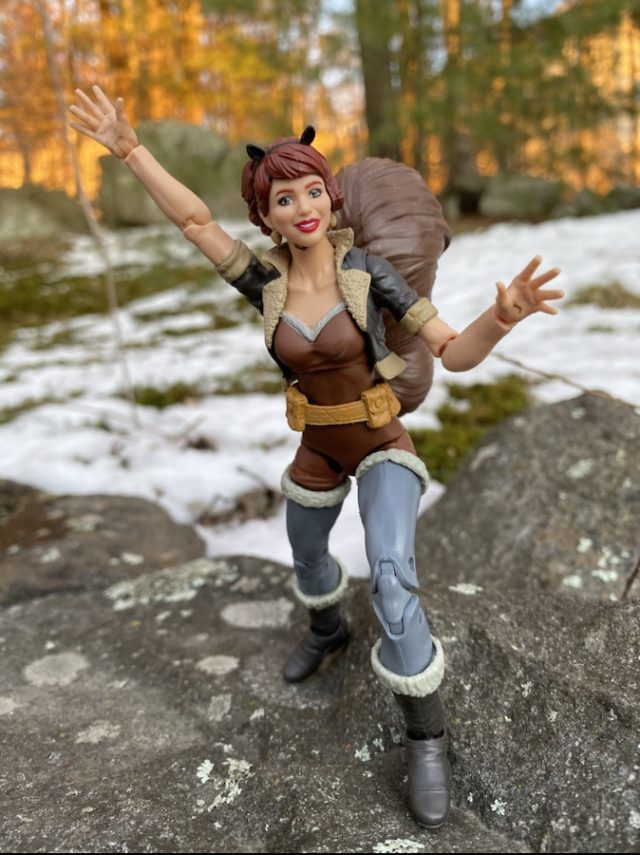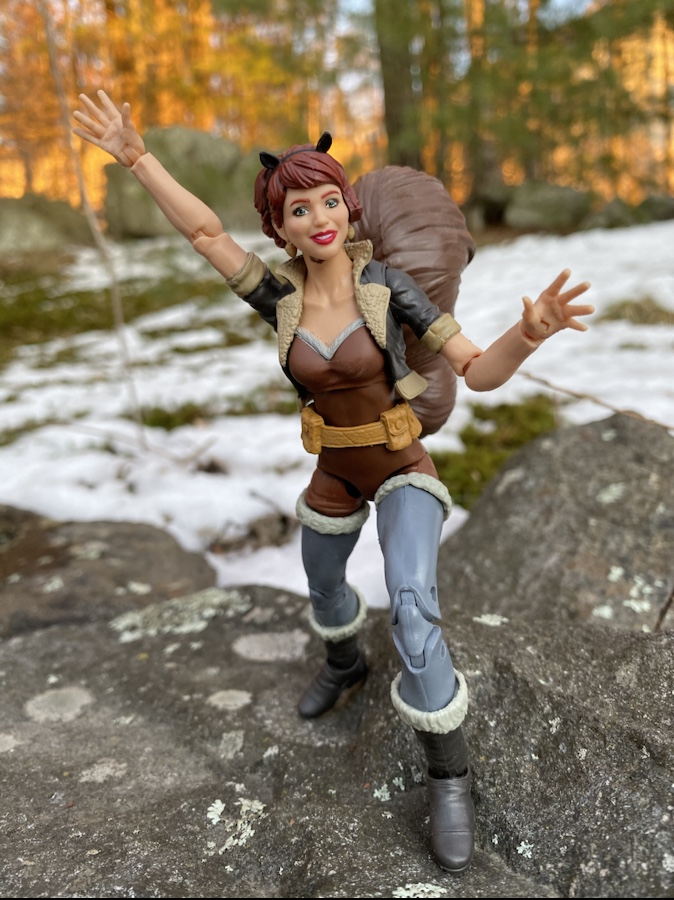 Articulation-wise, Doreen has exactly what we'd expect (with the added wrinkle of her tail getting in the way) for her articulation scheme:
Ball-Hinge Head, Shoulders and Elbows
Ball-Jointed Hips and Upper Torso
Swivel-Hinge Wrists
Double-Hinge Knees
Hinged Ankles with Rockers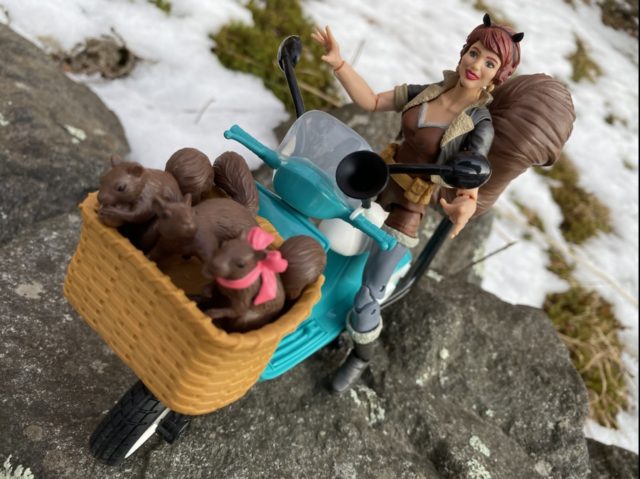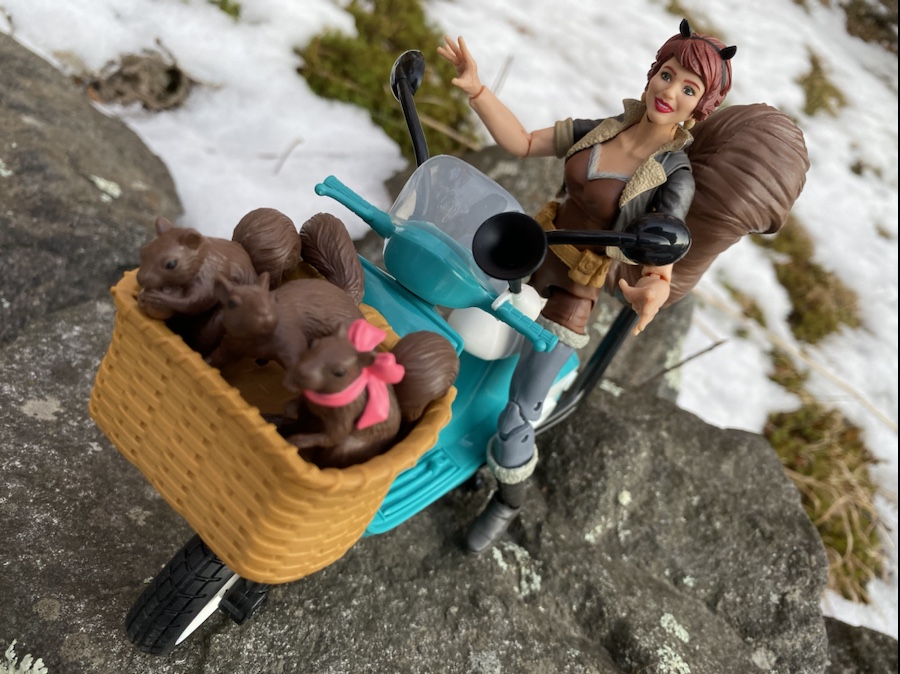 Overall: This was an agonizingly difficult release to attach a score to, as the base Marvel Legends Squirrel Girl we get here is "good" with solid details and sculpting, and I really, truly dig the trio of squirrel figurines that she comes with.
That said, this is a $40 release that doesn't include an alternate head or interchangeable fists that many collectors would have considered essential, has a heavy tail that makes posing a chore, "squirrel ears" oddly black, and includes a totally unnecessary scooter that virtually no one asked for.
I'm absolutely tickled that we're actually getting a mass release of this quirky character, but I think some of the choices made in the execution of this set are a rare misfire for Hasbro Marvel Legends.
This Article was first published onSource link . We are just re-posting and re-sharing from their RSS feed.

Toys Figures Statues Cool Stuff