When Marvel launched its new Conan the Barbarian series in 2019, it began with a bold premise: the first story arc would feature the shocking and universe-altering Death of Conan? What a remarkable advancement in economy for the House of Ideas! Of course, we all knew it was too good to be true, because of something called the Cebulski's Millions publishing initiative. What's that?
Last year, Marvel Editor-in-Chief C.B. Cebulski's rich uncle, Rupert Horn, passed away and left his entire estate, consisting of $300 million dollars, to Cebulski, under one condition: in order to obtain the money, Cebulski had to publish 30 million Conan the Barbarian comics in two years. Cebulski took the challenge, and Marvel's Conan publishing strategy was born. We've seen multiple Conan solo books, Conan spinoff books, Conan Avengers team books, and Conan crossover events.
So it's no surprise that after wasting 12 issues supposedly killing Conan, we move right into a new story arc in Conan the Barbarian #13, and, surprise, Conan is totally not dead!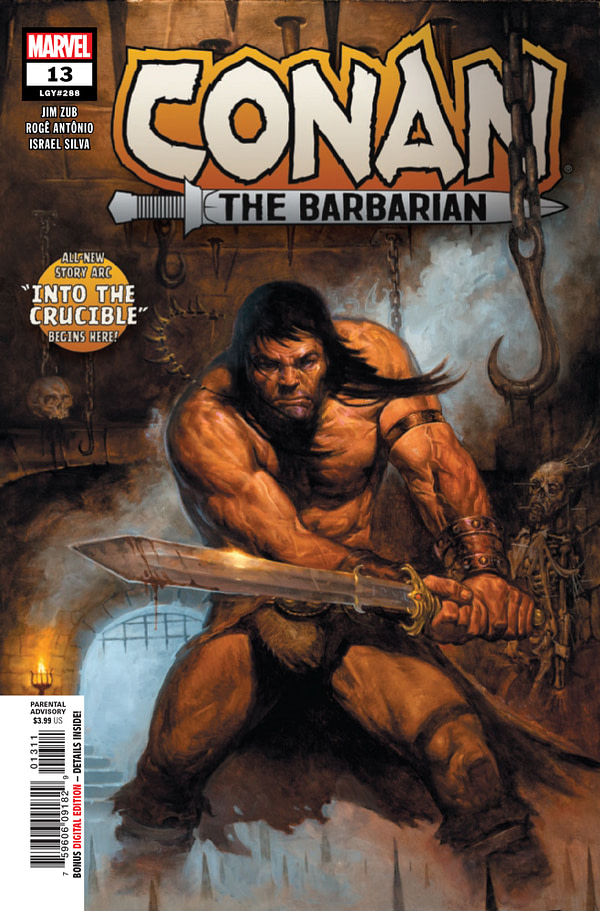 But he is stealing The Rock's nickname.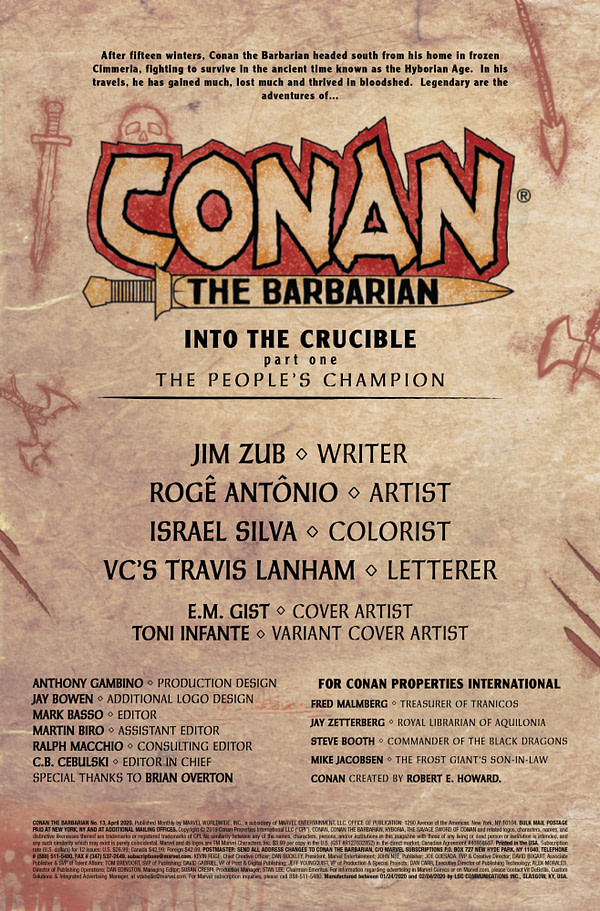 We catch up with Conan doing what he does best… brawling.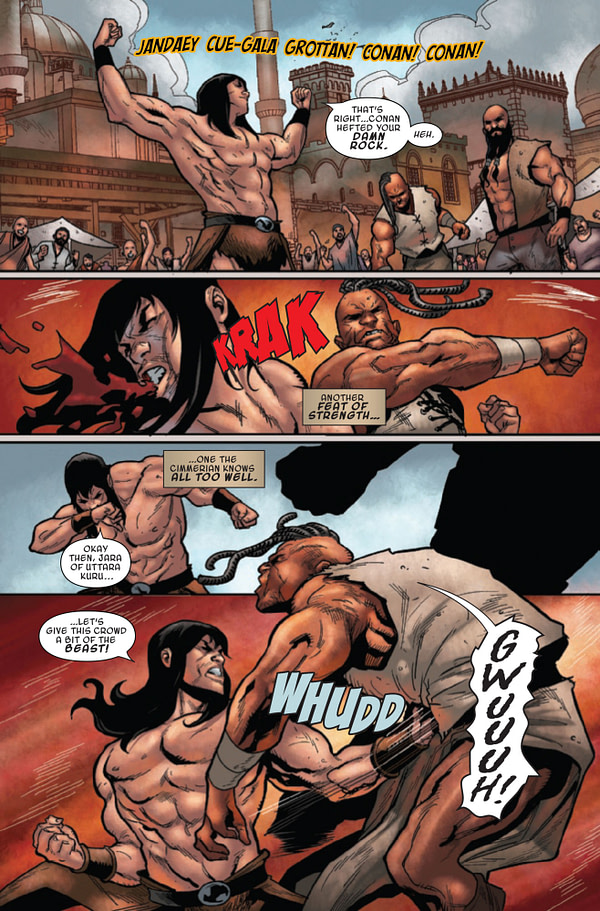 As often happens, Conan is outmatched in terms of pure strength.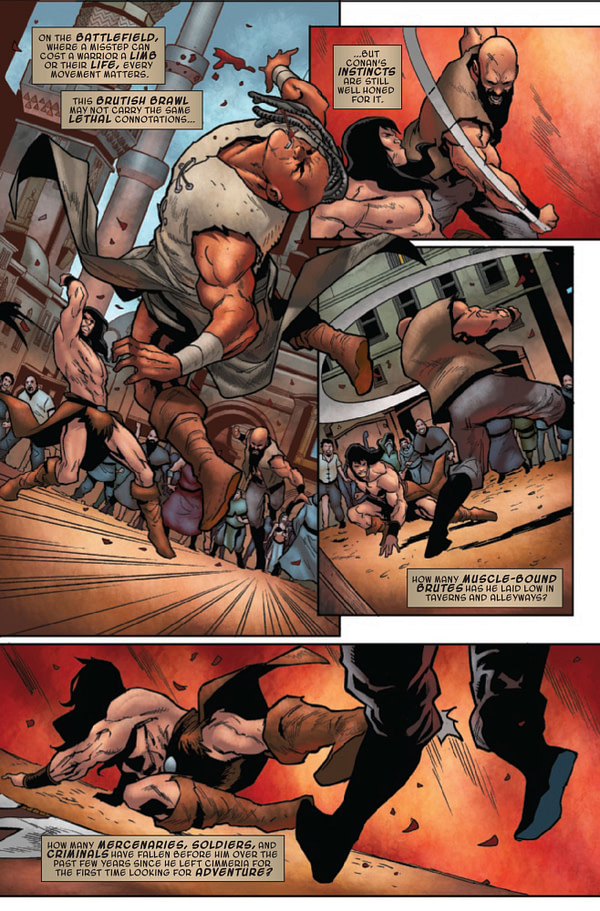 But like all great fighters, Conan knows the best equalizer is a kick to the family jewels.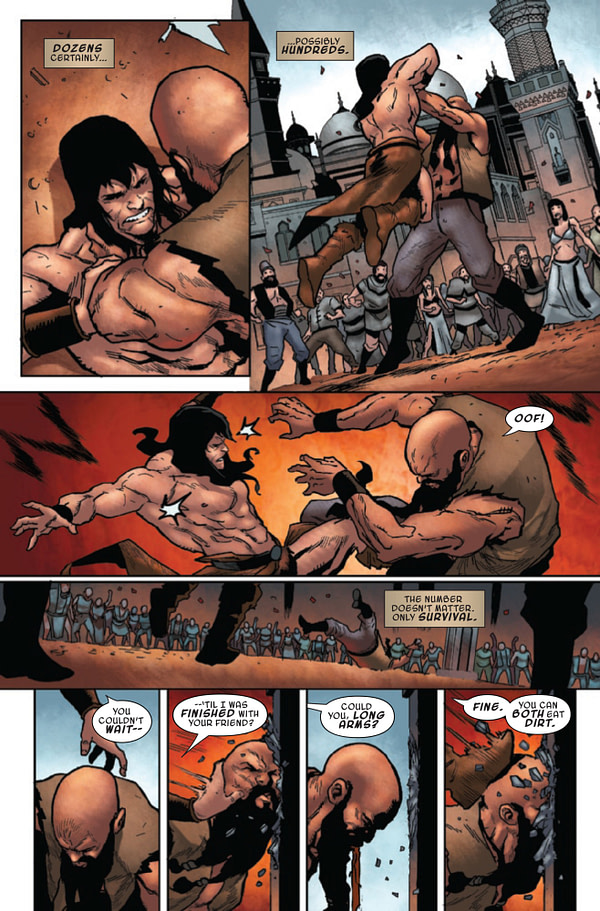 A victory for Conan, but what could be expected when Conan has already beaten death without even a 6-issue Conan Rebirth mini-series or two?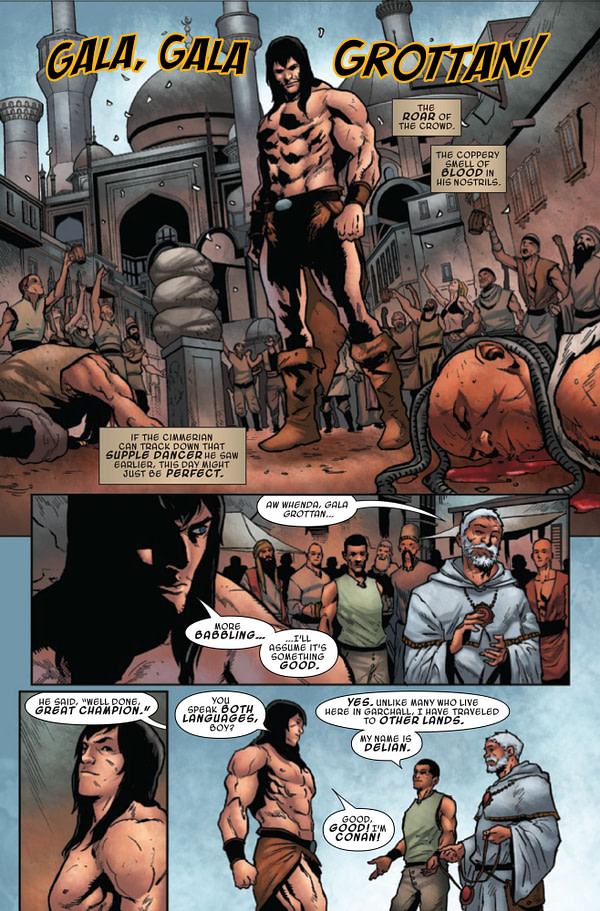 Conan the Barbarian #13 hits stores on Wednesday.
CONAN THE BARBARIAN #13
DEC190960
(W) Jim Zub (A) Roge Antonia (CA) E.M Gist
INTO THE CRUCIBLE AS THE MARCH TO KHITAI BEGINS!
Conan has faced many foes since leaving Cimmeria, but the greatest challenge lies ahead! A perfect jumping-on point for new readers as Conan finds himself in a city in the mystical Uttara Kuru, further on the eastern border than the young barbarian has ever traveled. And with the new city comes new dangers! Unfamiliar with the language, Conan inadvertently agrees to be the latest entrant to the Great Crucible. The people of the city support their foreign champion…but what deadly traps does the Crucible hold, and what will Conan sacrifice to overcome his ordeal?
Writer JIM ZUB (SAVAGE SWORD OF CONAN, AVENGERS: NO ROAD HOME) and artist ROGÊ ANT NIO (CONAN 2099, X-MEN RED) lead Conan on an all-new journey, as we begin a new era for CONAN THE BARBARIAN into undiscovered country!
Parental Advisory
In Shops: Feb 19, 2020
SRP: $3.99
Enjoyed this article? Share it!