He was… inevitable! Ever since Avengers Endgame hit theaters last spring, hardcore sixth scale collectors just knew that Hot Toys wouldn't be able to resist double-dipping with a second version of armored Thanos from the climactic movie. And after many months of teasing and speculation, the inevitable has become reality: the Hot Toys Battle Damaged Thanos with Nano Gauntlet is now up for order! The Mad Titan has a sad face and a new glove—is this the definitive version to have?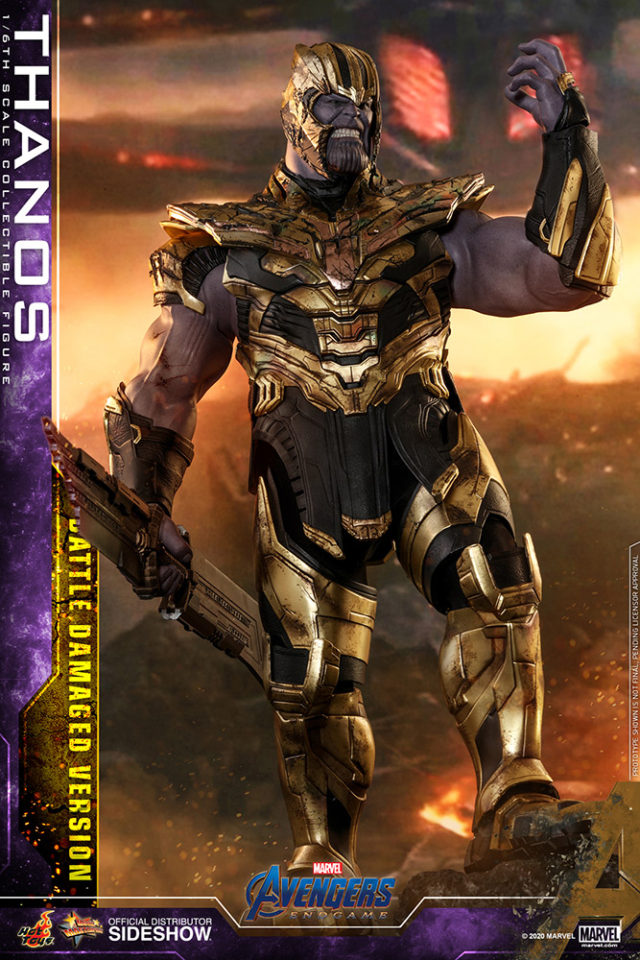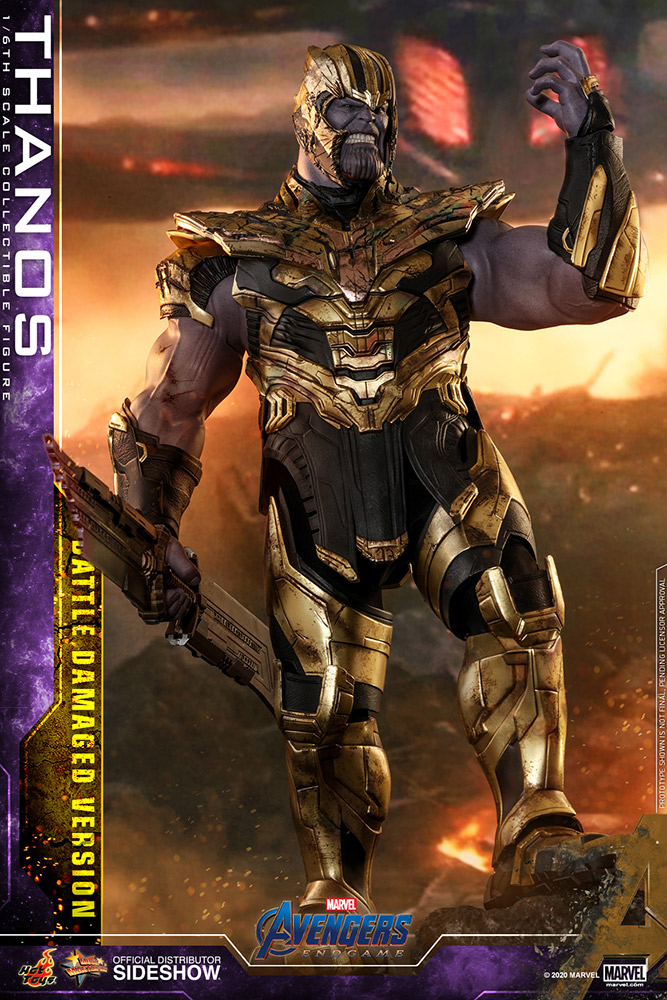 When the veil of secrecy surrounding Avengers Endgame was dropped after the movie's premiere, collectors instantly ascertained that it was no coincidence that Hot Toys hadn't included a Nano Gauntlet with the Final Battle Thanos MMS figure—it was deliberate since he never has the gauntlet at all when he's in his clean, unbroken armor.
After what feels like an eternity of speculation, we got a glimpse of a Thanos Battle Damaged variant in another figure's official photos last fall, and it's been a when—not if—we'd see this iteration solicited ever since. And now it's not even a "when"—because pre-orders opened up today!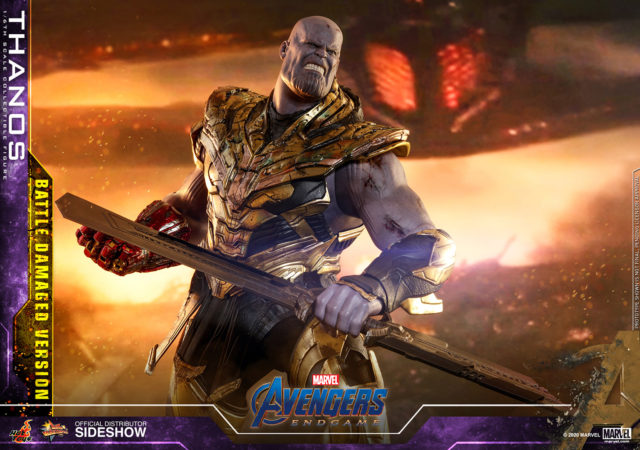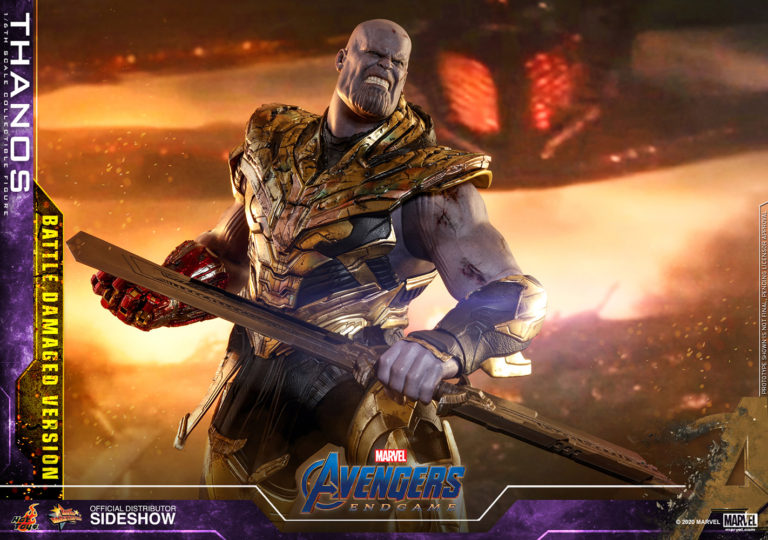 While this new figure obviously reuses a lot of the tooling and resources from the prior Movie Masterpiece Series figure, there are a handful of major differences that make this the specific version of the character that I'd been hoping for a 1/6 figure of ever since I saw the movie.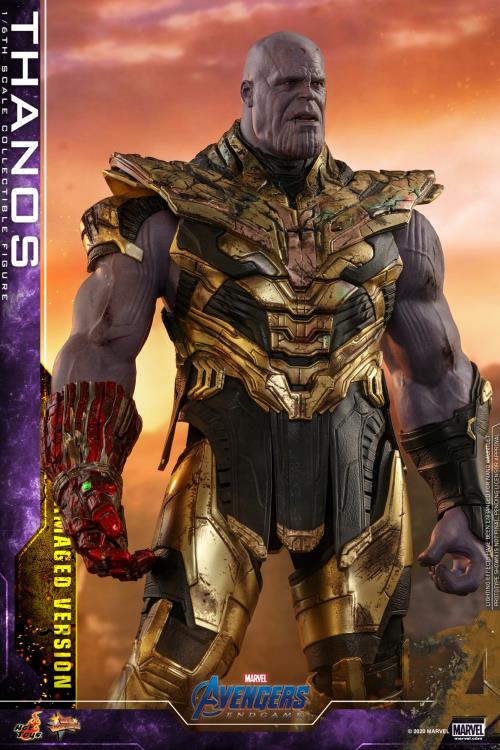 The new feature I'm seeing people give Hot Toys the most guff over is the all new sad/defeated head sculpt. This is an insanely authentic sculpt of the moment where Thanos realizes that he's lost and is about to crumble to dust. Some folks don't like "Sad Thanos", but I'm all about this very expressive head capturing an iconic moment in the MCU. YMMV.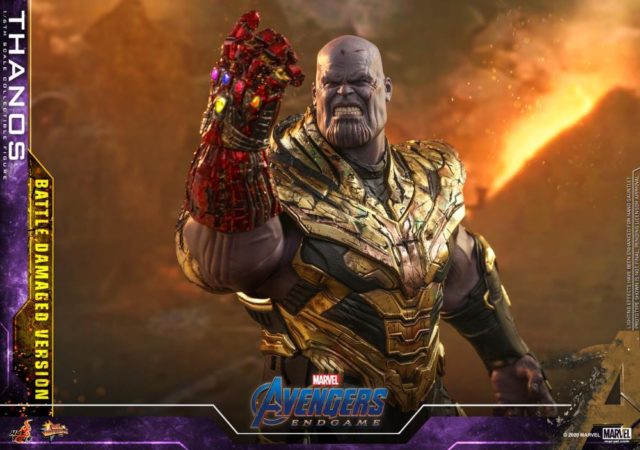 For those who prefer it, the gritted-teeth, angry head sculpt has also been included here and feels totally appropriate—it's just not the particular moment I'm looking for this toy to recreate personally.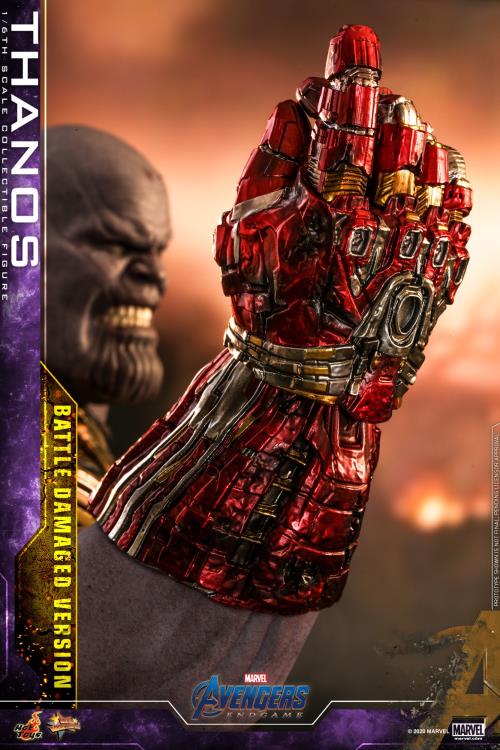 The much-requested Nano Gauntlet also makes an appearance here both with and without Infinity Stones. Despite how much peeps complained this should have come with the clean armored Thanos, that would have been totally inaccurate and made zero sense. This was the right and only call Hot Toys could have made, in my opinion—it just isn't a popular decision since it required a different $400+ figure purchase.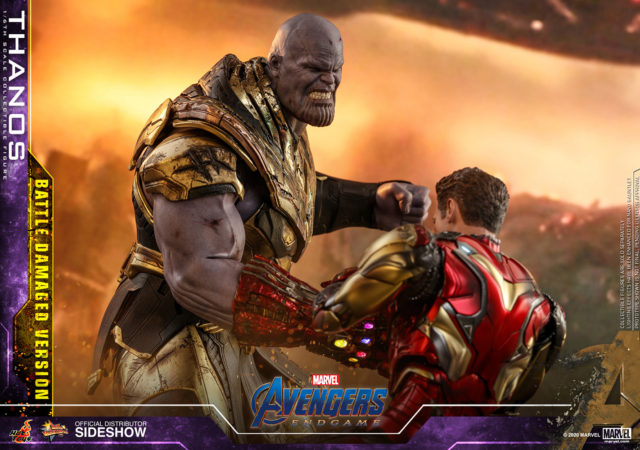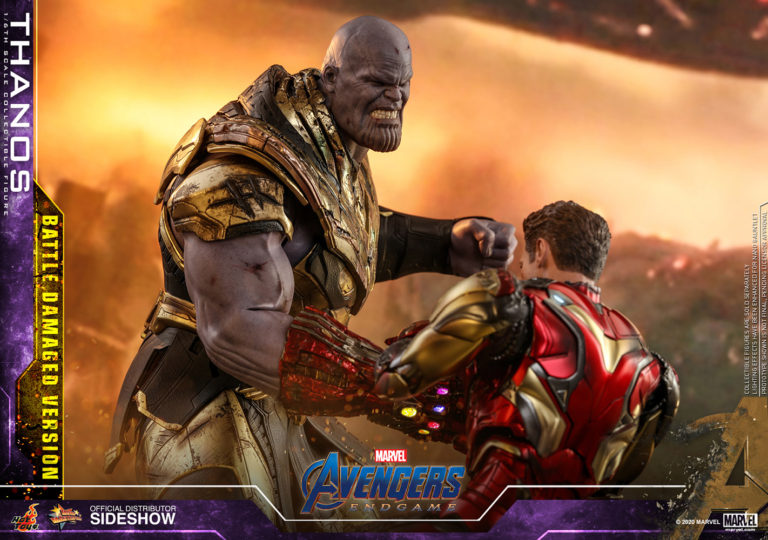 The "stoned" and "un-stoned" gauntlets both look terrific, with wonderful sculpting detail and paint deco. The "snapping" pose on the stone-less Nano Gauntlet is perfect. Hot Toys done good with both of these.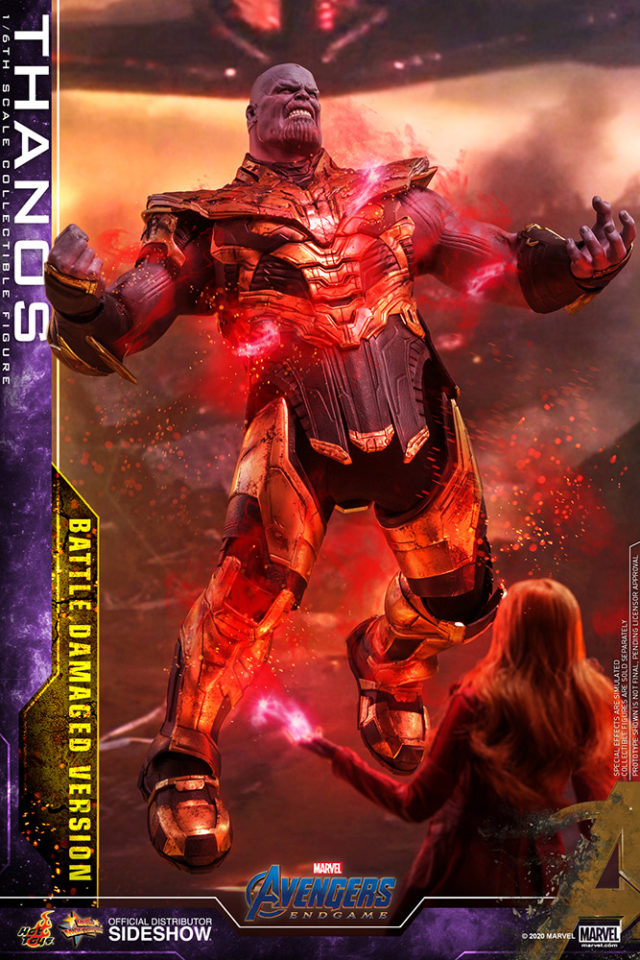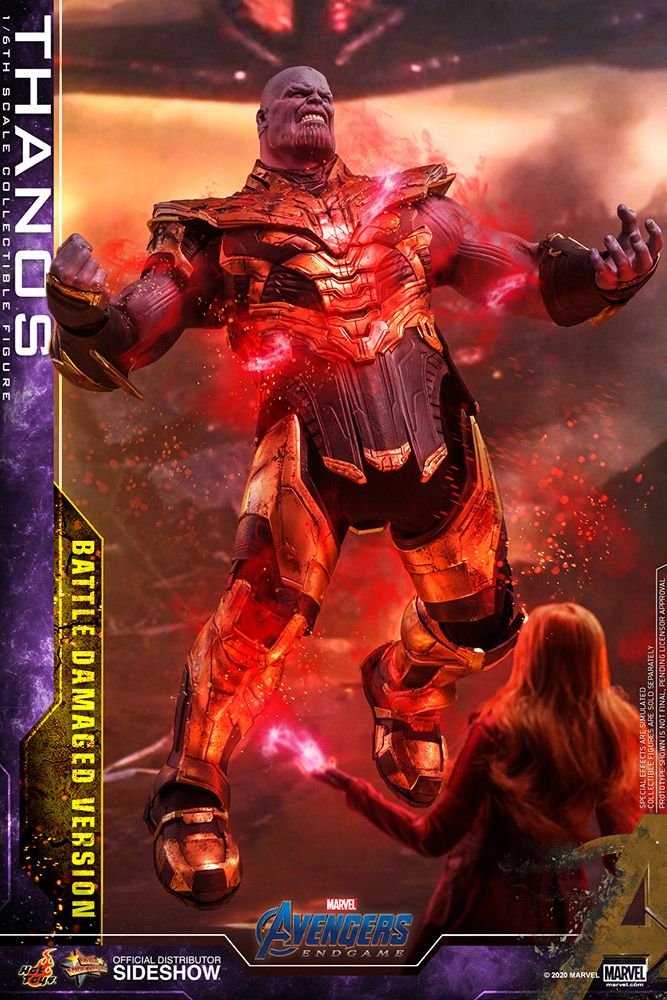 The Mad Titan has been through one heck of a battle, and as such his whole costume is appropriately battle-damaged. He's got a new damaged helmet, a damaged heli-blade (double-edged sword), worn down armor and even some blood stains.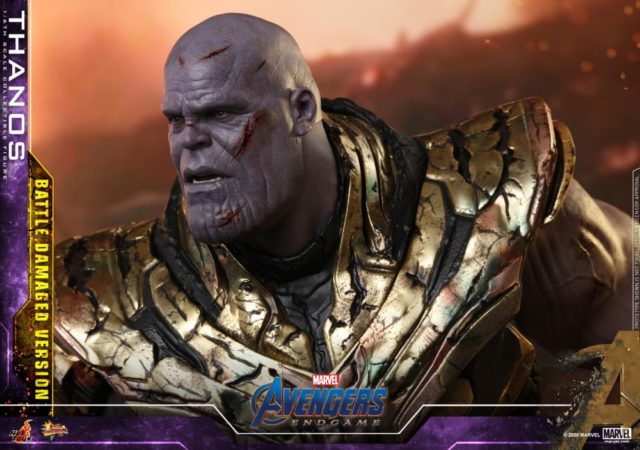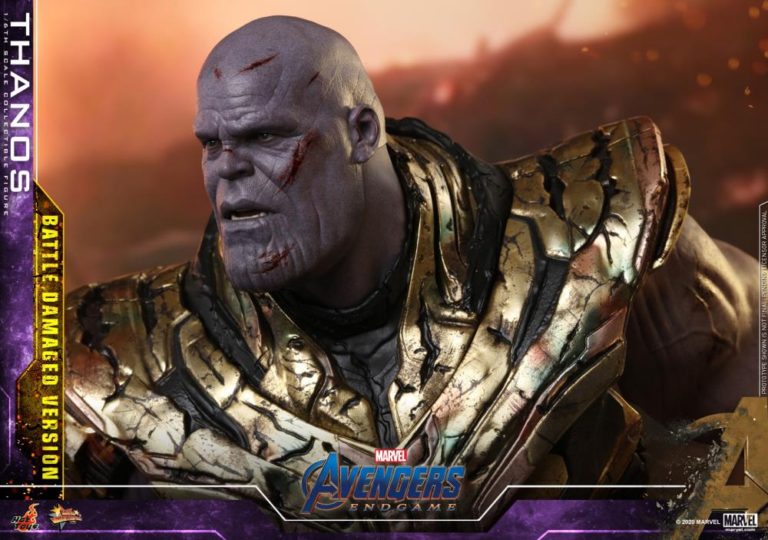 The blood will need to be changed from red to purple once this hits production in order to be fully accurate, but the detailing on all this stuff is tremendous. The battle-damaged nature of this release really makes it stand out more and feel a lot grittier and more interesting to me than the pristine original armored Thanos MMS.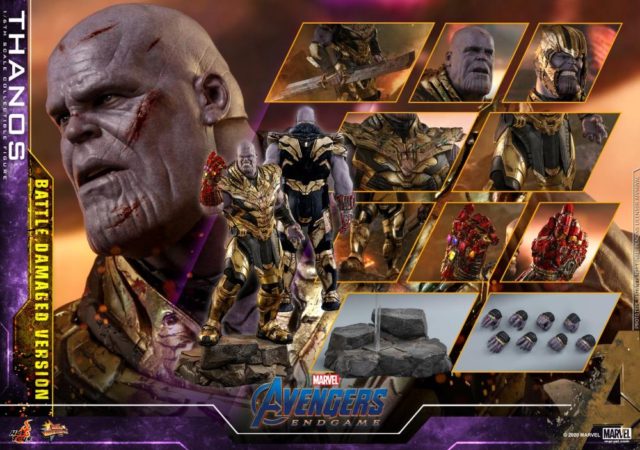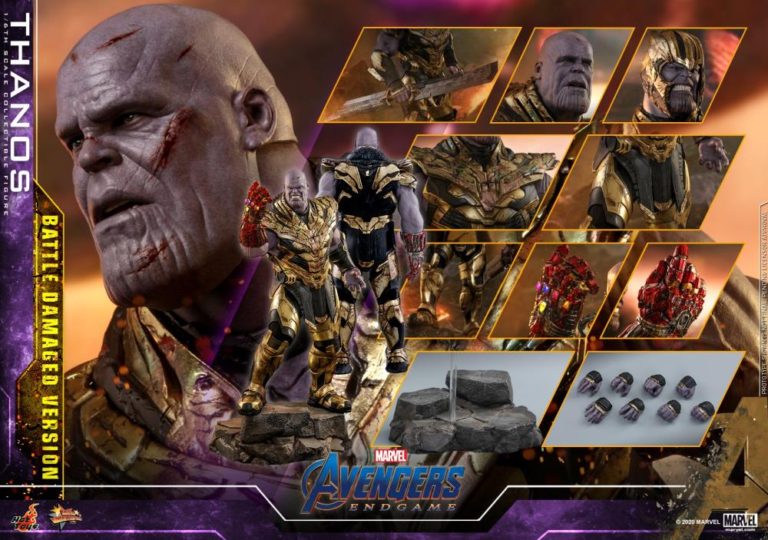 Various interchangeable hands and a rocky battlefield terrain base close out the accessories list for this release. All-in-all, this is a very complete-feeling figure that gives me basically everything I wanted in one final 1/6 Thanos Hot Toys action figure.
The bad news is that this is $428 figure. That is a scary number for an action figure, even one that's over 16" tall and features an LED light-up gauntlet and a smorgasbord of other accessories. I knew this was going to be pricey, which is why I skipped the first version in clean armor—I definitely don't think many collectors will have the funds to collect multiple versions of Endgame Thanos. Choose carefully!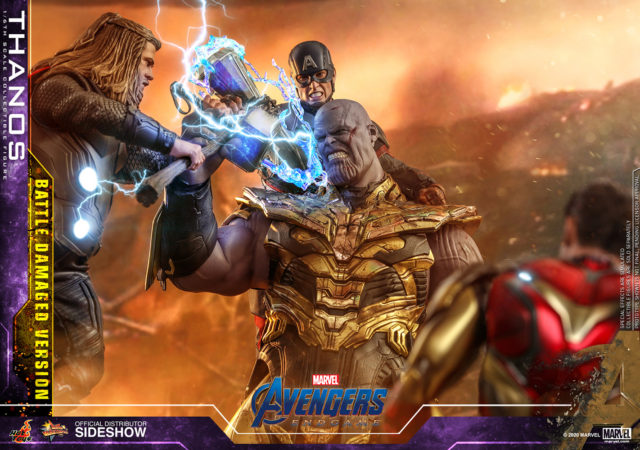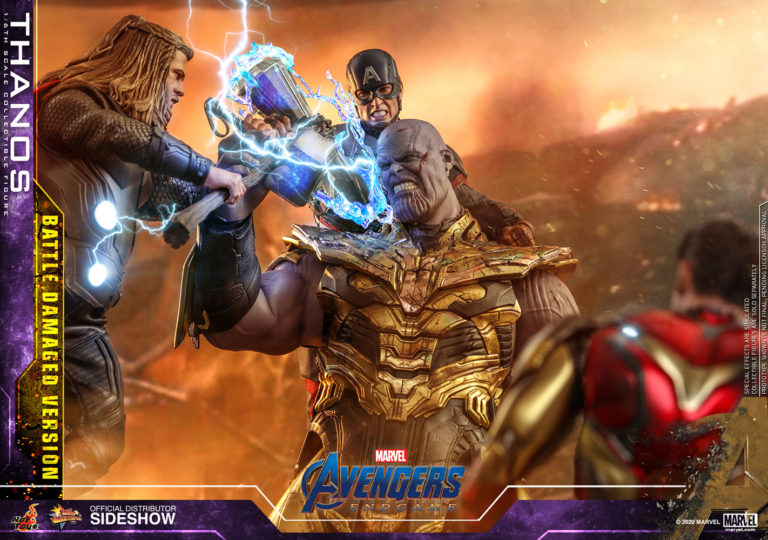 The Battle Damaged Thanos Hot Toys 1/6 figure is now up for order, and is scheduled to be released in Q1 2021. Battle Damaged Hot Toys variants traditionally escalate in price on the aftermarket, so I can foresee this particular version having the lowest production run and the highest secondary market price when all is said and done. Regardless, this is the exact Thanos I've been waiting for, so my order is booked and locked in already.
Now that the quartet of MCU Thanos figures is complete, which wins out for you as THE definitive version to own, Marvel collectors? Are you sticking with an earlier and more dominant version of the Mad Titan, or is this sad and defeated variant the iconic one for your shelf?
Source link
Toys Figures Statues Cool Stuff