Kotobukiya didn't bring quite as elaborate of a spread of new Marvel statues to display at New York Toy Fair 2020 as they have in past years, but they did bring along a few previously announced figures to show off in the United States for the very first time! Along with the ARTFX Premier Scarlet Witch statue that's now up for order, they also displayed the ARTFX Premier Captain Marvel and the concept art for the new version of a Black Cat Bishoujo PVC statue!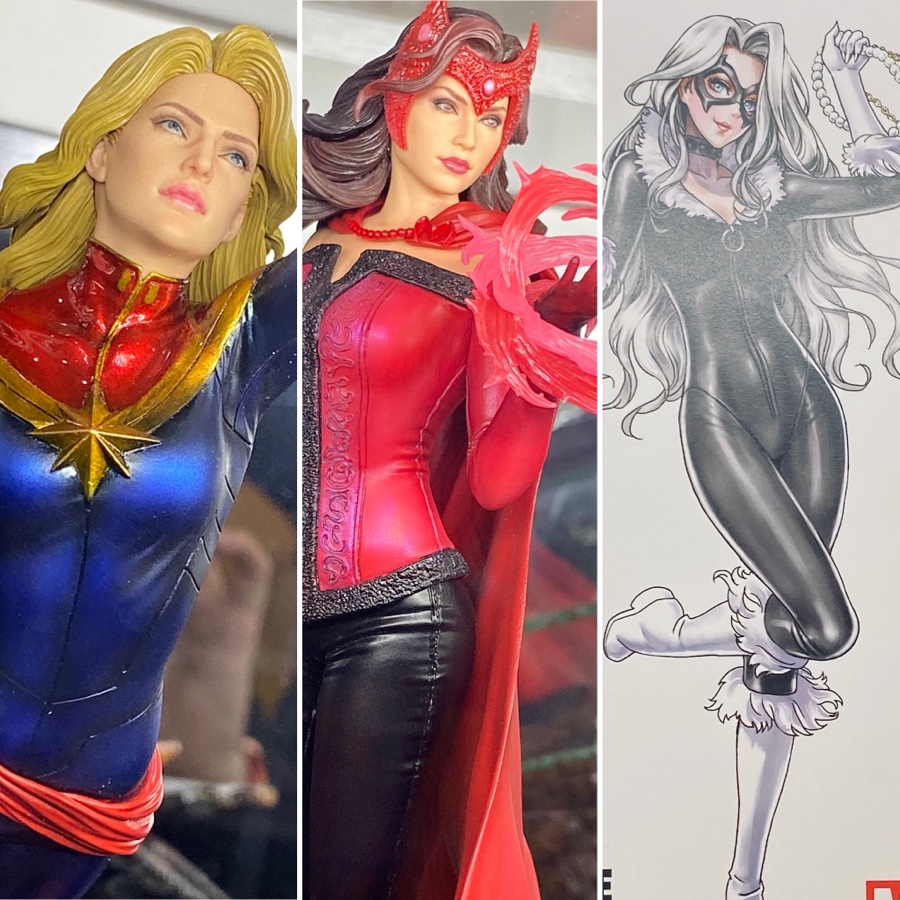 After dropping the curtain on the ARTFX Marvel Premier Collection as a whole at last year's Toy Fair in New York City, I was wondering if we'd see another huge showing from the line as follow-up at this year's event.
But alas, that was not to be. Zero new Marvel ARTFX statues were actually unveiled publicly during NY Toy Fair–but we did get a first in-person look at a couple that we knew were on the way: Scarlet Witch and Captain Marvel!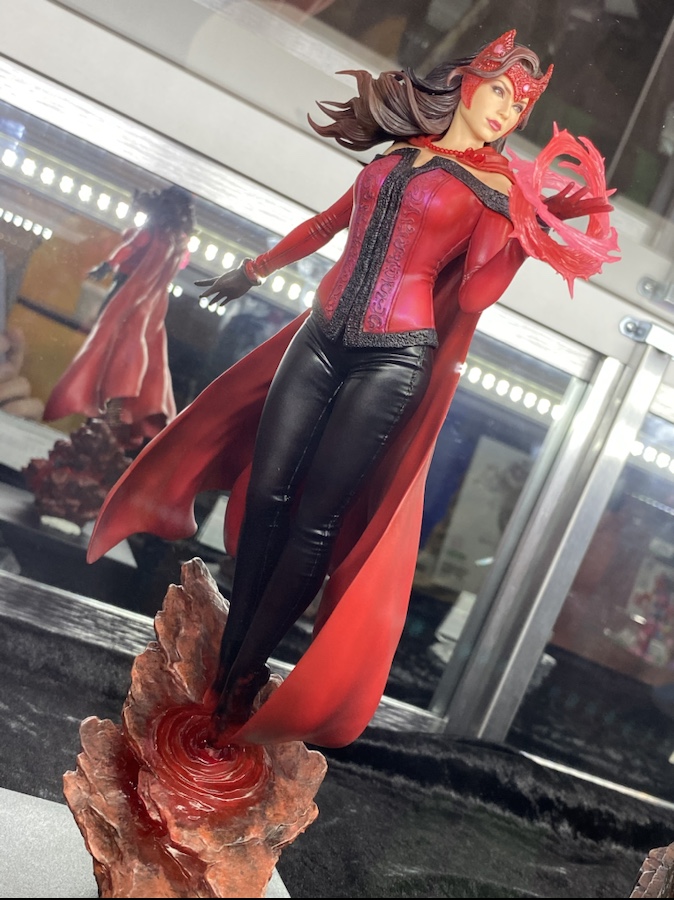 Initially I was caught off-guard by the costume on the Kotobukiya Scarlet Witch ARTFX Premier figure, as it's a more modern costume that's a bit of a jump from the much more familiar-feeling classic look.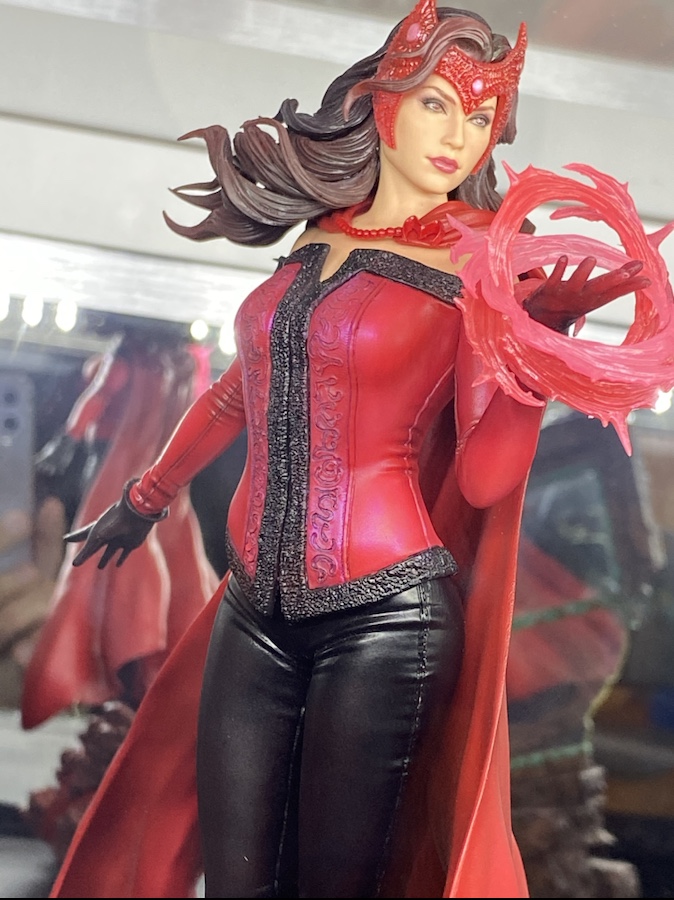 However, once I saw this Wanda Maximoff in person I felt a whole lot better about it. The portrait on this Scarlet Witch is just gorgeous, with a very pretty and well-detailed face sculpt.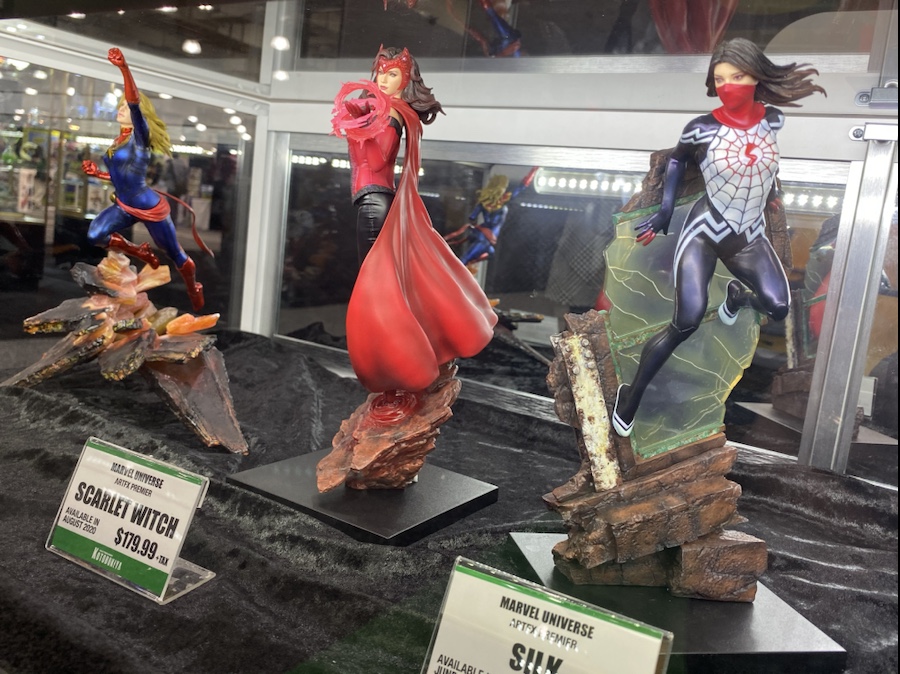 I think the pose on this statue really flows well, and I love both the magic effects piece she's floating atop and also the one on her hand. I didn't anticipate liking this as much as I do, but I think it actually may be up there with Loki and Cosmic Ghost Rider among my favorite pieces in the series.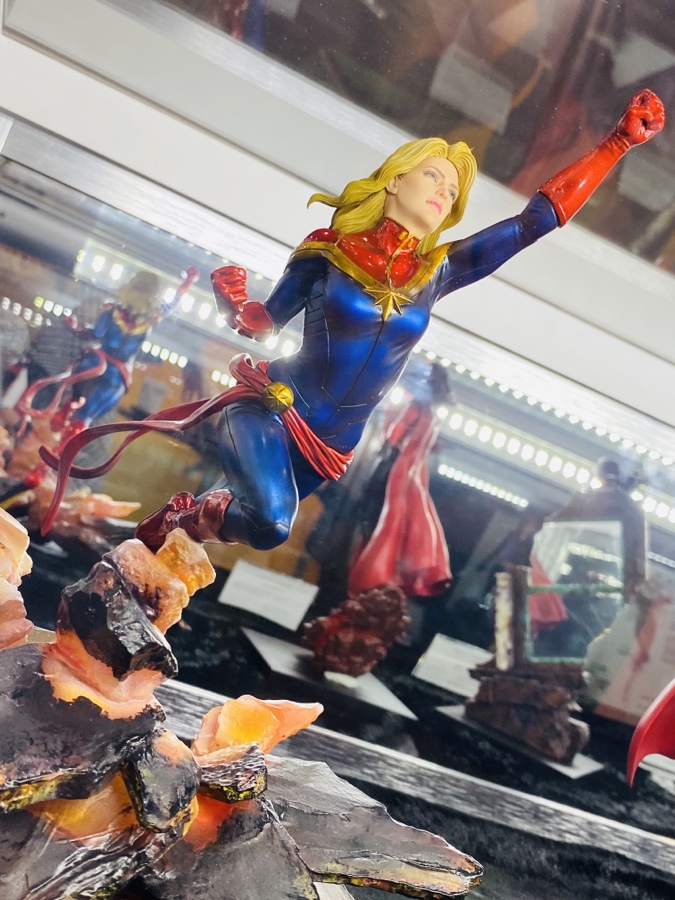 Of course, while Scarlet Witch has already been solicited, the presumable next pre-order in the series was also on-hand: long-haired Carol Danvers in her Captain Marvel costume. The resplendent paints on ARTFX Premier Captain Marvel look phenomenal, and are definitely my favorite part of the figure. They really shine!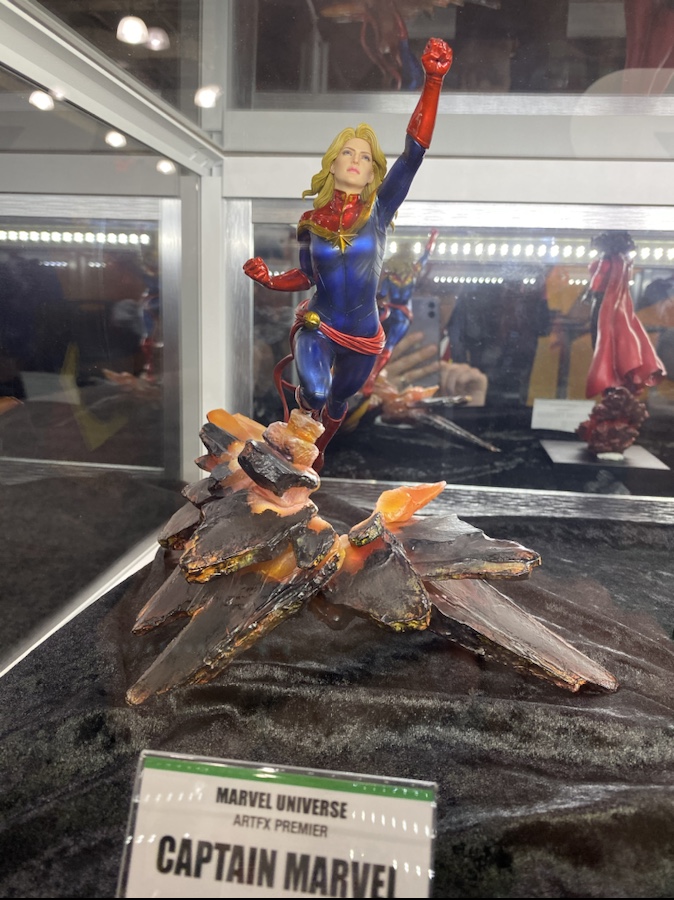 I think that the overall pose on Carol is good, but also a bit awkward since she's in a flying pose but ultimately not lifted very high off ground level. I think she looks a little funny next to Scarlet Witch, and am worried she'll look more so in a display with more character who aren't "flying".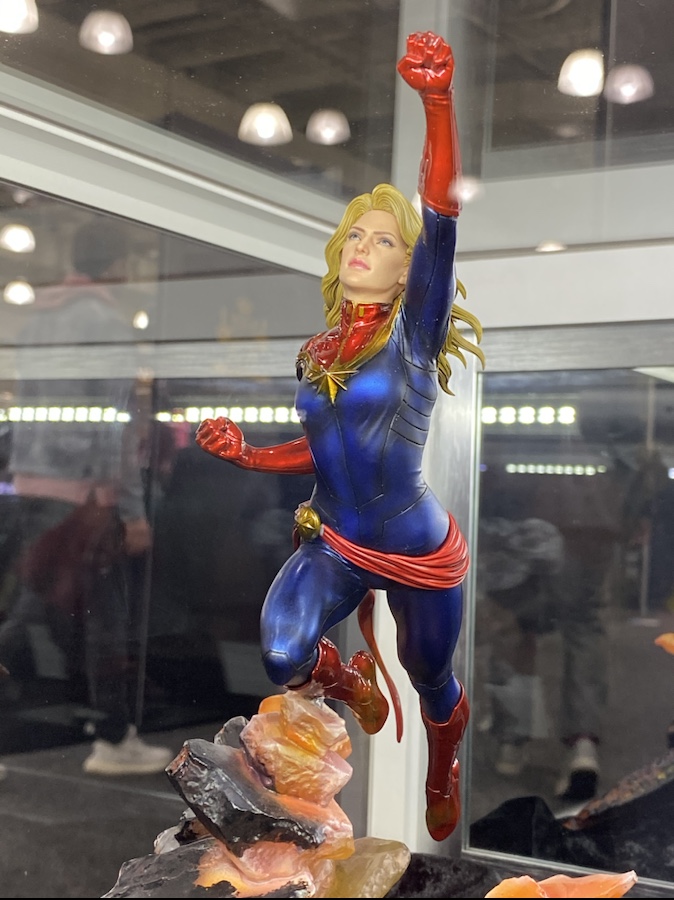 While Wanda and Carol are both very popular characters, I'm not entirely sure how these figures are going to sell. Scarlet Witch is priced at $180 MSRP, which is an exceptionally high price for a 1:10 scale PVC, beautiful or not. Even with pre-order discount pricing, she's still very pricey.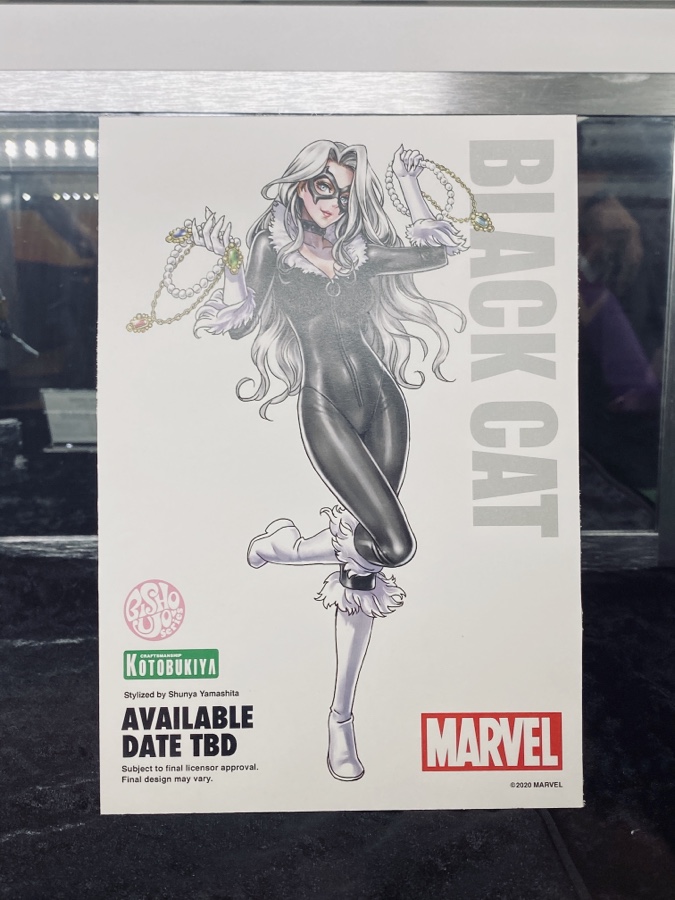 I'm a little bit surprised by the announcement of a new Kotobukiya Bishoujo Black Cat figure, honestly, since the original version isn't really selling for much more than the retail cost of standard Bishoujo PVCs at their current price-point. That said, I'm a big Felicia Hardy fan, and I'll always opt for more Black Cat merch when the opportunity arises!
It's a nice design, though I'm not sure every collector with the original iteration will feel the need to get this one as well.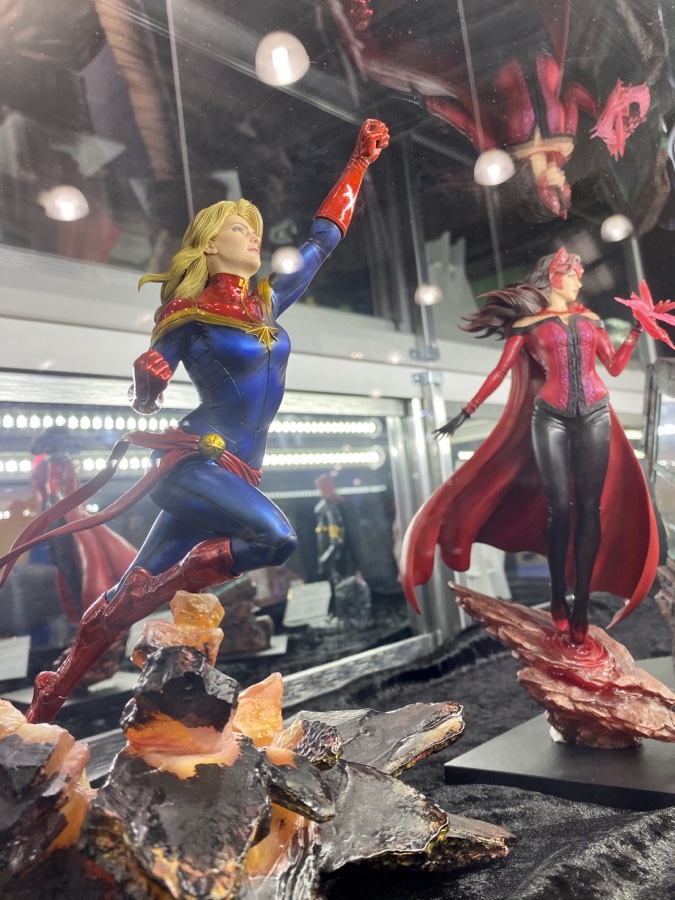 Marvel ARTFX Premier statues are available for order online and at some physical specialty stores, and are limited editions that won't be reprinted in the future once sold out. I don't believe any of them have sold out yet to-date, but it'll be interesting to see the aftermarket once the LE pieces do stop becoming less available as supply dries up. No word on when Black Cat will be up for PO, but it'll likely be at least a month since we still haven't seen a physical prototype of her at all.
Is anyone out there collecting the full line of these ARTFX Premier Marvel statues? And if so, what do you think–are they worth their lofty price tags? And for the Bishoujo fans: are you happy with Black Cat Version 2, or is there a character not previously done you'd have preferred?
Source link
Toys Figures Statues Cool Stuff