While Diamond Select Toys brought a plethora of showings to New York Toy Fair 2020 in February (as always), one line that was definitely a bit underrepresented at NYTF was the long-running Marvel Select figure series… which had exactly zero new figures displayed at the event. It's been pretty quiet Select-wise ever since, but finally there's some news to get excited about: the Marvel Select Taskmaster movie figure currently up for order has now been revealed! And Black Widow movie delay or no, he's still scheduled to arrive this summer!
Getting to check out the world premiere of at least one new Marvel Select action figure at Toy Fair is one of the big joys of the show for me each year, so it was a mega-bummer when there were zippo new entries in the line approved to show off in New York City during the winter.
But maybe everything happens for a reason, because now we get an all-new Diamond Select figure reveal to enjoy smack dab in the middle of a pandemic-infused dry spell! And as is usually the case with DST, the latest addition to the their MCU lineup does not disappoint!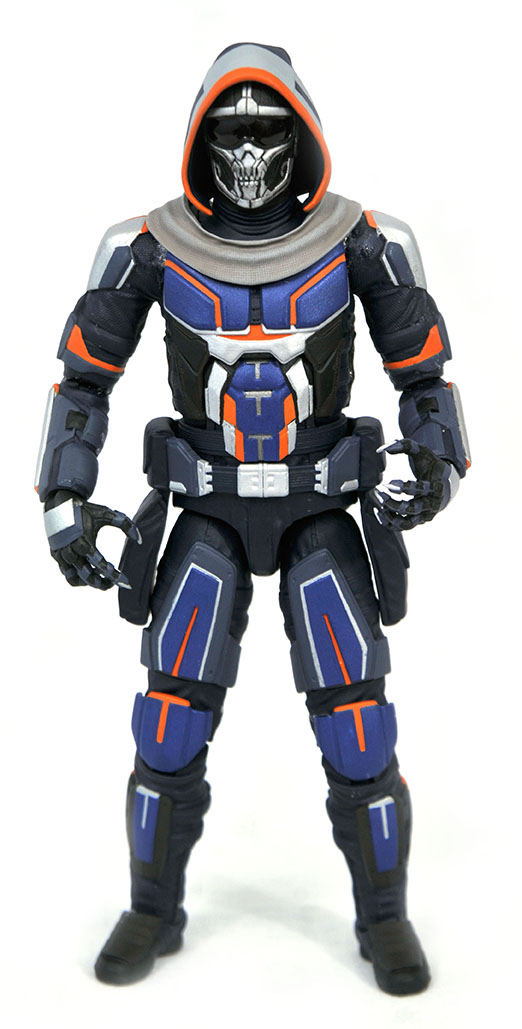 As always with the line, this Taskmaster Select figure is a 100% unique sculpt, which means that there's ample detailing and spot-on proportions to what we're going to see with the character when the Black Widow movie eventually hits in (hopefully) November.
Gentle Giant Studios (which sculpted this figure) sometimes stumbles with their actor likenesses in action figures, so a hooded and masked character like The Taskmaster absolutely plays to their strengths. The result is one of the more impressive DST Marvel movie figures in recent memory.
Taskmaster has the usual quasi-super articulation scheme of 16 points, and gets a nice haul of accessories to utilize it: a sword, shield, bow, arrows and interchangeable hands. While I'm sure he'll likely wield some other unorthodox weapons as well in the Black Widow movie, I think the load out here will cover most folks' needs.
For a real change, this Marvel Select movie figure is actually slated to arrive before the movie he appears in–basically unheard of for DST! Bearing in mind that Diamond Select rarely goes back to do another production run of MCU figures because of licensing reasons, I would definitely recommend snagging this figure before hype for the Black Widow movie really kicks in and demand for a limited supply of this guy escalates.
The Black Widow movie Taskmaster Marvel Select 7″ figure is now up for order, and is expected to be released in summer 2020. His MSRP is set at $29.99, but you find him a couple bucks cheaper by pre-ordering from some online retailers like BBTS and EE. The original solicitation said "June", but I reckon that's almost guaranteed to be pushed back slightly because of the pandemic. We shall see!
Now that Diamond Select Toys has fully played their hand, what do you think, Marvel collectors? Does Hasbro still have the best 6″-7″ movie Taskmaster toy in the land, or does DST steal that crown away? Which will be the default movie Taskmaster in your collection?
This Article was first published onSource link . We are just re-posting and re-sharing from their RSS feed.

Toys Figures Statues Cool Stuff